They Caught Who Set Rash On Fire
We love to see a man getting punished
Charli XCX from her music video "Used To Know Me"
Hello my little bunnies, 
It's Mo AKA DJ Gay Panic and this(!) is The Deviant Dispatch.  I keep a faggoty ear to the ground, delivering you the latest news on NYC's greatest underground parties, rock shows, and ACTUAL raves- every fuckin' week. Plus you'll get it-girl gossip, cultural speculation, snark, typos, and lots of Charli XCX updates. To throw me some much-needed support, become a paying subscriber, share this with someone, or hit the heart button at the top of the post!
Sorry that the newsletter is coming a little late this week. My grandfather died so things are a little topsy turvy at the moment. Still, I couldn't let a week go by without popping in to share some tidbits:
Ok I'm sure there's stuff I'm missing but I'm frankly exhausted. 
Till next week!
XOXO
Mo
---
Veronica Electronica X MICHETE b2b DJ Set
When: Friday (tonight), 10-4!!
Where: Happyfun Hideaway
What: Seattle-based underground pop star MICHETE is in Brooklyn this weekend. Your first chance to see the "Back Of the Truck" singer is DJing with Macy Rodman's DJ alias.
How much: No cover
---
AUNTIES BRUNCH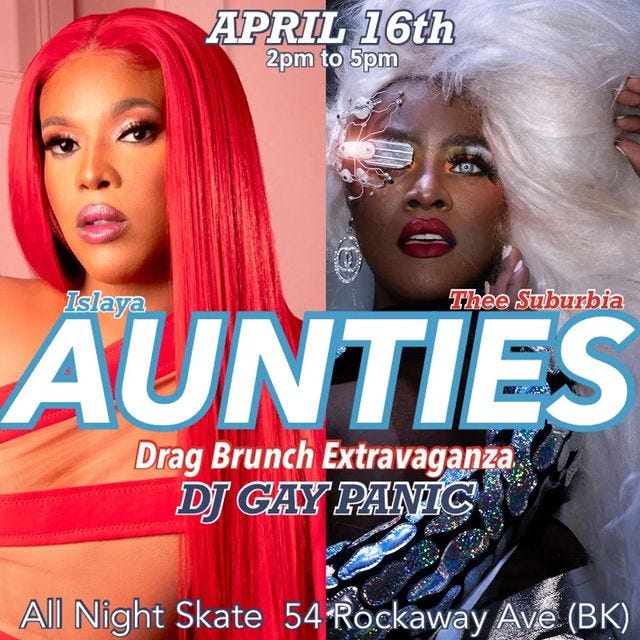 When: Saturday 2-5
Where: All Night Skate
What: The last edition of my semi-monthly drag brunch with the divine club kid Thee Suburbia and the classically sickening Islaya. 
How much: No cover
---
Str8 To DVD: BUNDT
When: Saturday 7-10pm
Where: C'mon Everybody
What: This monthly drag show is always a hoot, full of off-kilter humor mixed with genuine showmanship. This month's show is a collaboration with the Cake Boys, a drag king and thing collective of similar spirit. Oh, and I hear a rumor that Michete might pop by for a performance or 2.
How much: $12.50 online / $15 at the door
---
Villain Edit
When: Sunday, 8:30pm
Where: Club Cumming
What: This drag show devoted to villains is at the intimate cabaret bar that helped launch Catherine Cohen to Netflix Stardom. Producer Chevy Lace has gathered the best in the spooky drag business: Qhrist Almighty, Jay Kay, Theydy Bedbug, and Rion Moon. 
How much: $10 in advance, $15 at the door
---
That's it for this dispatch. If you liked it please consider forwarding this email post to a pal! If you're the pal please subscribe. You can send me tips about worthy events, news & gossip, and shit about anything I mentioned by emailing thedeviantdispatch@gmail.com or responding to this email. Even just hitting the like button does tons to help this project!